Why need to clone a disk?
Disk clone refers to cloning the whole hard disk to another. After cloning, you can get a total duplicate of all the content on the current disk. Usually, users may decide to clone a disk for the following reasons:
When there's low disk space on the current hard drive, they want to migrate the disk to a larger one.
To prevent accidentally data loss caused by PC crash, some users tend to back up the whole disk in advance.
The working efficiency, safety and stability of the SSD is better than the current HDD, so they decide to upgrade their disks to SSD.
How to clone a disk to another? Although creating a system backup image is a universal method, it's too difficult and complex for most users to operate. Therefore, a reliable and free disk cloning software on windows 10 is necessary.
How to choose a free disk cloning software on Windows 10
If you want to easily clone a hard disk to another, selecting a user-friendly disk migrator is notable. In the process of choosing a free cloning software on Windows 10, you need to consider the factors below.
Whether the software is compatible with your PC, if not, you can skip it.
Some tool will be bundled with other applications, when you download and install it, other programs will also be installed on your PC. Besides, if the disk cloning tool is criticized for carrying viruses, please immediately avoid it.
The functions of the disk clone tool need to be usable, if it isn't supported for cloning a disk, it cannot be an ideal choice.
The disk clone software should be easy to use, or many users cannot successfully clone a disk with it.
Clone a disk with the best free cloning software on Windows 10
Considering the mentioned factors, here, you can try the AOMEI Partition Assistant Standard, it's a powerful and functional disk cloning utility. With this freeware, you can easily clone the target disk with several clicks.
Why do we recommend this tool? The highlights are as follows:
It can be used on Windows 11/10/8.1/8/7/Vista/XP PC, and it won't be limited to any brand of PC.
It provides the users with the most user-friendly guidance, so you don't need to worry about the difficulty of cloning a disk.
It has a clear and bright operating GUI, so you won't be scared by the cold interface.
It supports cloning a larger HDD to a smaller SSD, and migrating the current HDD/SSD to a larger one, you can clone the current disk to another one with different sizes.
It offers other free functions for you to better manage your PC, such as Wipe Hard Drive, Change Drive Letters, Clone Partitions, Resize a Partition, etc. Besides, it can also work as a disk formatter on Windows.
However, there're some drawbacks:
This tool is specially designed for the Windows system, so it cannot work on Linux and Mac devices.
You can clone any data disk, but if you want to clone a system disk, you need to upgrade to the Professional Version.
If you don't matter the shortcomings, let's see how this best free cloning software work on Windows 10.
Download Freeware
Before the disk clone:
If the destination disk is a new one, you need to initialize it first.
If the destination disk is not a new one and stores some data, you need to back up the needed data, since the disk cloning task will overwrite all previous data on it.
If you want to shorten the time to clone a disk, you can uninstall some applications.
Step 1. Connect the destination and the PC, then install this free cloning software windows 10, click "All Tools" and "Disk Clone Wizard" in turn.
Step 2. Tick the "Clone Disk Quickly" option and click "Next" .
Step 3. In the new interface, find out and choose the current disk as the source disk, then click "Next".
Step 4. Choose the destination disk and click "Next". If the destination disk is an SSD, you can tick "Optimize the performance of SSD" to optimize it.
Step 5. You will be asked to edit the disk, then click "Next".
Step 6. Finally, click "Apply" and "Proceed" to clone the target disk.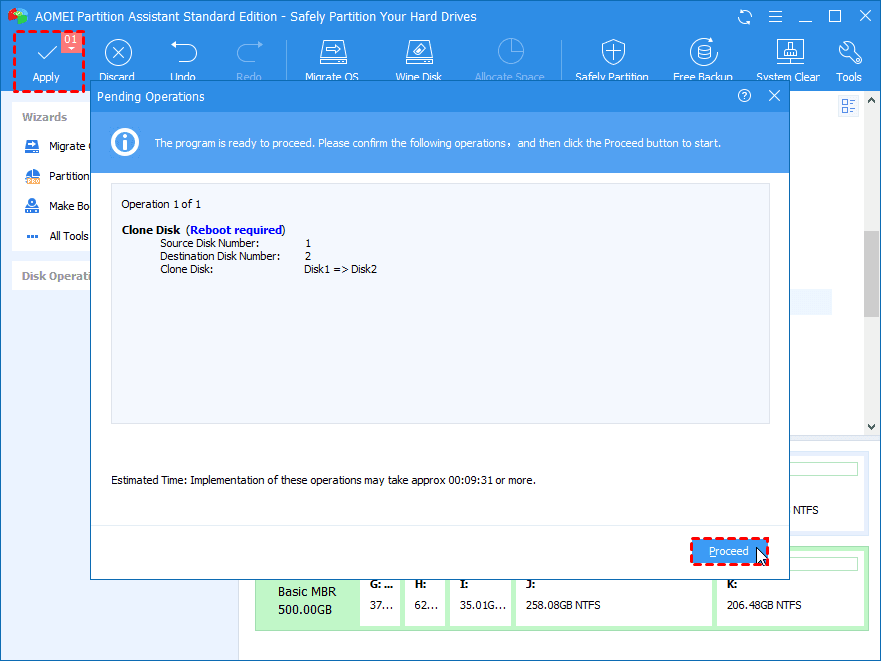 Summary
To successfully clone a disk to another, it's of vital importance to have a reliable and free disk cloning software on Windows 10. In the post, we analyzed the reasons to clone a disk and the factors for selecting a disk cloning utility. If you want to clone a disk without worrying, the recommended AOMEI Partition Assistant Standard can be your good partner.