Instagram Stories is an interactive and enjoyable feature that allows users to share a series of photographs or short clips that last for 24 hours on Instagram. This feature has grown in popularity, owing to the numerous add-ons available to make them more fascinating.
There are many apps available for creating entertaining and interesting Instagram Stories. Some apps enhance Stories with effects and animations, while others offer more extensive photo and video editing tools.
While Instagram itself has a lot of creative choices for making Stories, using other specialized applications can help you make them even better.
Introducing IGParrot- Story & Collage Maker
So, one fine day while I was searching for an app particularly for Instagram stories, I came across IGparrot. The reviews were pretty great, so I immediately downloaded it, and honestly, I wasn't disappointed.
With its custom-designed story templates, you can make gorgeous Instagram stories. Pick your favorite template and there you go! With IGparrot, you can create and modify the trendiest pictures, and have them saved in your gallery.
With a few taps on the screen, you will get your unique Instagram story ready. I am not a social media influencer, but for those, this app can help you make your Instagram account look like a professional photo gallery. The templates are so aesthetic, it won't be difficult for you to stick with a color scheme and layout on your Instagram
They provide the widest selection of template categories for your everyday life, including fashion, lifestyle, work, pets, family, as well as special occasions like Halloween, Christmas, and much more! Their templates and template categories are always being updated, so rest assured that you'll always have a variety of templates available.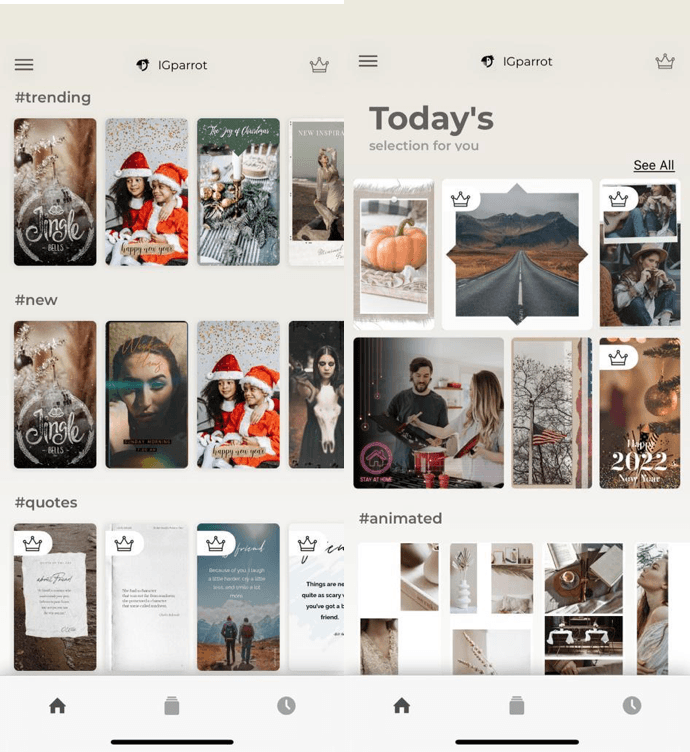 How To Download and Install IGParrot?
It's simple to install IGparrot. We'll walk you through the process of downloading and installing this app:
Download the IGparrot app from the App Store. Here's the link to download: https://apps.apple.com/app/id1522248373
Once you have downloaded the app, allow the app to access your photos, and there you go!
Key Features:
Choose from available templates, both free and paid to create a unique Instagram story.
It allows you to save the Instagram stories and posts in your gallery.
Animated stories are the best feature so far.
You can also find the best covers for your Instagram story highlights, and play with quotes as well!
How To Use IGparrot To Edit Instagram Stories?
It's quite simple to use. First, select the template you want to work with. I honestly never seem to decide on one template. Not my fault, they are all too beautiful, and I keep on browsing and scrolling.
1. Add pictures in the template
Finalize a template. Click on the '+' button to add your image, and crop, rotate and flip it as needed.
2. Working with Animated Templates
They are my favorite! There's no rocket science in using them as well. Just upload the number of pictures required in a template and it'll animate them. If you're running a product-based business, you should definitely try this amazing feature to showcase your products in stories.
3. Edit your Text
Change the colors and fonts of the text in your story or post. Align it, make it bold, or italicized, there are plenty of options!
4. Preview your Story
Tap on the small 'eye' icon in the center, it helps you preview how your story would look on Instagram. When you're ready, download it in your gallery with the icon on your right side.
5. Find Covers for your Instagram Highlights
I've seen a number of Instagram accounts having their highlights organized and using covers that best suit the title or category, and I've always wondered, 'where do they get them?'. IGparrot is the answer.
You can search covers by their categories as well. From floral, family, to travel, you'll find plenty. I personally love this feature.
6. Add Quotes
If finding quotes for your feed is a headache for you, IGparrot's quote templates will work wonders for you, as they're available for both Instagram stories and posts.
IGparrot Pro
You'll find a 'Crown' icon on various templates, it's an indication that is available only on 'IGparrot Pro'. So, what does IGparrot Pro offer? It isn't only templates. Here's what I found out:
You get access to a wide variety of premium templates, fonts, and highlight covers.
The watermark would be removed.
My Verdict
After exploring all the fascinating features offered by IG parrot, I've drawn the conclusion that this is a must-have app for Instagram stories. The design, templates, and ease of use make it a great app to use before sharing your content on Instagram.